With Leica Captivate you can choose to hide Apps and or Jobs to simplify the display.
By default all Jobs and Apps are visible both purchased/licensed Apps and demo Apps that have a free demo period.
From the main menu select Settings - Customisation – App Visibility, this will display a list of all the Apps.
Tap on the eye symbol to toggle visibility on or off and then "F1 OK" when complete.


The extra options under the "Fn" key "F3 Home" and "F4 End" which take you to the first and last Apps.
In a similar way Jobs can also be hidden: From the main menu select "F6 Jobs" to enter Job Management and display the list of all Jobs.
Toggle the same eye symbol to hide or make jobs visible. You can also use the Function Keys to manage your Jobs with options.
"F2 New" to create a New Job.
"F3 Edit" to view and Edit the Job properties.
"F4 Delete" to Delete a Job
"F5 Data" to view and edit the Data in a Job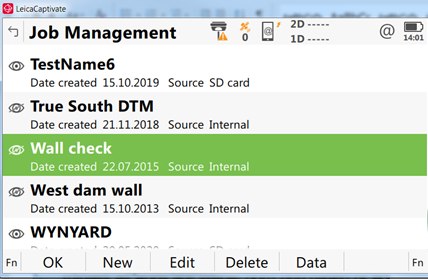 The FN key gives addition options:
"F2 Home" takes you to the first job
"F3 End" takes you to the last Job
"F4 Internal" hides all Jobs that are not in Internal Memory
"F5 SD Card" hides all Jobs except those on the SD Card
"F6" changes between "All" and "None". This changes depending on previous selections, if all the Jobs are visible this will be "F6 None" and will hide all Jobs. If one or more job are hidden this will be "F6 All" and will display All Jobs.